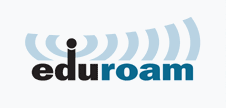 The EduRoam service

The EduRoam service

KFKI academic campus is a member of the Hungarian and the international EduRoam (Education Roaming) confederation. Users of the on-campus research institutes can freely use the EduRoam WiFi network in the member institutes of the Eduroam confederation and users of the member institutes can use the EduRoam network at our campus. Member institutes of the EduRoam confederation all over the world can be found here: EduRoam, while member institutes of the EduRoam confederation in Hungary can be found here http://www.niif.hu/eduroam_partners.

Using EduRoam wifi on KFKI campus SSID (Service Set Identifier) of the WiFi network: eduroam

EduRoam services at present are available on the campus in buildings 1, 2, 3, 13 and 14 of the Wigner Research Centre for Physics and in building 4 (library).

User identification for the use of the network should be done by the rules of the user's home institution.

When connecting to the Eduroam network the mobile computer gets a public IPv4 and an IPv6 address, and an address of a DNS server and a default gateway. No other configuration is needed to connect to the external networks.

If you encounter any problem with the eduroam service or if you have a question or a remark you can get help sending an E-mail to the sysadm@mail.kfki.hu E-mail address.

Configuring EduRoam services for users of KFKI campus

Users of the KFKI academic campus should use their E-mail address as an userid and their spam filtering password when using EduRoam services at the KFKI campus or at any member institution of the Eduroam confederation.

Users have to configure Eduroam on their client computers. As it is necesssary to have a network connection during the configuration phase the configuration should be done when connected to the network of your home institution (i.e. before traveling to another member institution where you want? to use Eduroam services).

System requirements:
Wireless network adapter, supported standards: IEEE 802.11 a/c/b/g/n;
WPA2 compatibility
TKIP/AES encryption; EAP/TTLS external authentication; PAP internal authentication
Registered TCS (Terena Certificate Service) Certificate: "DigiCert Assured ID Root CA" for the identification of the server site.;
For Windows clients built-in, or third party installed wireless client using EAP/TTLS authentication protocol;
For Linux clients wpa_supplicant program.
Configuration Assistant Tools Configuration Assistant Tools have been set up for Windows (Vista, 7, 8, 8.1, 10), Apple MacOS, iOS, Chrome OS, Android and Linux systems. Download page: the Configuration Assistant Tools. Certificates
---
© Wigner FK SzHK - Last updated: 6. october 2015.